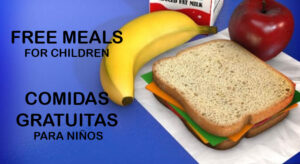 Click the image above for updates
Meal Distribution Update
There will be no meal distribution on Memorial Day, Monday, May 25.
The APS Grab and Go meal sites will provide meals to families on Wednesday, May 27, and Friday, May 29.
Then, the city and county will take over the program for the summer.
Ten APS schools will be a part of those programs, providing breakfast and lunch Monday–Friday. Those schools are:
Beginning the week of April 13, APS is reducing the days and times of meal distribution. Meals can be picked up from 11 a.m.-1 p.m. Mondays, Wednesdays, and Fridays only. Students will receive meals for the day as well as meals that can be prepared the next day. The new schedule provides meals for six days a week. It also relieves the burden on food workers who have done a tremendous job on the frontlines during this public health crisis.
Children are expected to be in the vehicle when meals are picked up. If they have an online class that conflicts with meal distribution, parents may pick up the meals for them as long as they can show their child's student ID or report card.
About Grab & Go Meals
About Grab & Go Meals

Cost: Meals are free
UPDATE: Hours of Operation: 11 a.m. to 1 p.m. on Monday, Wednesday, and Friday.

Students will receive meals for two days.

Available to all school-age students under the age of 18 as of Monday, March 16, 2020.
UPDATE: Students are expected to be in the vehicle when meals are picked up. If they have an online class that conflicts with meal distribution, parents may pick up the meals for them as long as they can show their child's student ID or report card.
APS requests that you do not bring animals to the Grab & Go sites, including in your cars.

Sites Open for Meal Pick-Up

Updated Friday, March 23, 2020: The sites below have been identified for meal pick-up. Parents/students will be able to pick-up meals via a drive-through line at the entrance of participating schools. No one should be entering schools to retrieve food. Students must be present to receive a meal.

Students do not have to go to the school they attend to participate, so they may access the school site most convenient for them.

Grab and Go Meals Sites by Cluster
Cluster
Schools Serving Meals
Albuquerque High School
Atrisco High School
Cibola High School
Del Norte High School
Eldorado High School
Highland High School
La Cueva High School
Manzano High School
Rio Grande High School
Sandia High School
Valley High School
Volcano Vista High School
West Mesa High School